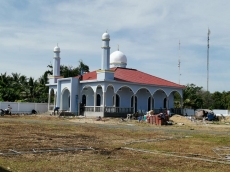 On October 29th, 2019, It was the day of grand opening ceremony of MASJID ALMAIMUNAH and also the birthday of the seventy-four-years-old of the donor, DATO HAJI ABD RAHMAN BIN HAJI IBRAHIM who sponsored this MASJID in the amount of sixty thousand dollars (60,000USD) with the size of 15m2 x 20m2. The ceremony was presided by H.E HOSEN MOHAMAD FARID, Advisor to Ministry of Cult and Religion ,
and the chairman of Cambodian Muslim Intellectual Alliance (CMIA) and Islamic Council for Development of Cambodia (ICDC), DATO'S WAN MOHAMAD DATO'S SHEIKH ABDUL AZIZ, Former Director of Department of Islamic Development Malaysia (JAKIM) and DATO HAJI ABD RAHMAN BIN HAJI IBRAHIM, Director of Rahman Bothers Moto Malaysia together with more than three hundred residents and students participated in the event. In addition, DATO HAJI ABD RAHMAN BIN HAJI IBRAHIM, who
helped build Al-Rahman International School which is located at Tbong Khmoum province in the amount of one hundred sixty thousand dollars (160,000 USD), thus; he has donated more than two hundred twenty thousand dollars (220,000 USD) through Cambodia Muslim Intellectual Alliance.
May Allah Bless him and his family with all the best!