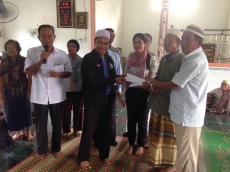 On 22, June, 2017 in afternoon CMIA has conducted Iftar ceremony fund distribution for five villages in Roka Porbram commune, Tboung Khmoum district of Tboung Khmoum province.
This important ceremony was attended by Her Excellency. Dum Mariny, Secretary of State of Ministry of National defend and H.E Hosen Mohamad Farid, Adviser of Ministry of Cult and Religious and Chairman of CMIA.
Ramadan is the holy month of Rahmah and Barakah from Allah and this month the best value is fasting and also fasting not only avoid from food eating, drinking from FAJER until sunset but fasting for Muslim have to avoid from lying, label and avoid from commit evil. Otherwise is not like that the fasting is no meaning for Allah. H.E Hosen Mohamad Farid said,

Any way he
has also emphasized that during this Ramadan in 1438 H. CMIA corporate with RizQ –ar- Rahman and NOUVELLE OPTIQUE have distributed fund Iftar implementation for 20, 000 people in many provinces of Cambodia which there are Kampong Cham, Kampong Chhnang, Thboung Khmom, Kandal, and suburb of Phnom Penh city and other on CMIA has also distributed Iftar fund for 500 people in Vietnam Muslim Community.
At the same time Her Excellency. Dum Dariny, Secretary of State of Ministry of National defend has shared the value idea in the ceremony that she very happy to see and meet with Muslim people in Propa mosque of Roka Por bram commune during the Holy of Ramadan for Muslim world. She add more that for present Cambodia leaded by Somdach Prime Minister has provide full freedom to all religioon in Cambodia and also Somdach Techno Hun Sen Prime Minister have attended Iftar ceremony with thousands of Cambodian Muslim people in Phnom Penh city.
At the end of the same day Her Excellency. Dum Mariny and H.E Hosen Mohamad Farid have also attended the Iftar implementation in Roka Probram1 village which there are 500 Muslim villagers.