H.E Hosen Mohamad Farid and colleagues have visited and discussed meeting with PKPU &JAKIM Leaders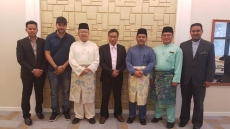 On 29 April,2017 H.E Hosen Mohamad Farid, Adviser of Ministry of Religious and Cults of Cambodia and Chairman of CMIA and his colleagues have visited and discussed meeting with Chairman of PKPU, JAKIM of Islamic Malaysia Develop Department and Haji. Paimuzi bin Yahja, Vice Chairman of JAKIM and also Dato. Modh Nordin Ibrahim, Vice Chairman of JAKIM and Former Chairman
of PKPU that always cooperate and support for CMIA since 2009 until now on many sectors with there are Wakaf, Education,
School building, and Humanitarian. At the end of discuss meeting with good result and positive on CMIA improvement in good progress and quickly.PKPU-JAKIM still continue to support and cooperate with CMIA on Education and Humanitarian sector.
In the name of Chairman and represent for board member of CMIA H.E Hosen Mohamad Farid has profound thanked to Dato. Paimuzi bin Yahya that still continue to support for Education and Humanitarian sector in Cambodia through CMIA. May Allah bless and take care both of Dato Haji and colleagues meet the successful for all works.